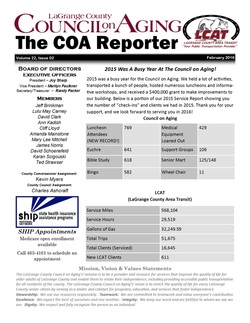 The COA Reporter
- The LaGrange County Council on Aging's Monthly Newsletter
Each month we publish a very informative newsletter and distributes over 600 copies. The newsletter, The COA Reporter, is available for a small annual subscription donation by mail ($5.00/Year) or via e-mail. Each monthly issue contains a calendar of the events being sponsored by the LaGrange County Council on Aging and important information from TRIAD, SHIP and/or AARP. In addition, the newsletter provides information to clients about other important resources, services, community activities, health, safety and items of general interest. You can also view our past newsletters by visiting our
Newsletter Archives
.
If you have an article or story that you would like included in the newsletter, e-mail it to Cheri Perkins, Executive Director, at
cperkins@lagrangecoa.org
.
CLICK HERE TO READ THE FEBRUARY 2016 NEWSLETTER
---
Cash Bonana Books Available!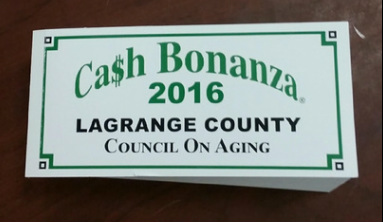 The LaGrange County Council on Aging is selling Cash Bonanza coupon books again this year. The books are full of great deals at a variety of local restaurants, stores, and service providers. The books are currently available at the Council on Aging for $59.95.
Download a list of all of the available deals!
---
Upcoming COA Events
The LaGrange County Council on Aging has a variety of different activities at our office including luncheons once a month, BINGO and Euchre Club once a week, and more.

Check out our

February Calendar

!