LaGrange County Council on Aging
2017 Senior Expo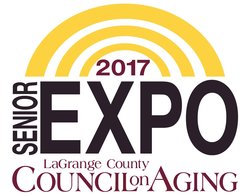 The LaGrange County Council on Aging will be holding their fifth annual Senior Expo at the Michiana Event Center (MEC) on Tuesday, October 10th from 8:00 am - 1:00 pm. This event is FREE and open to the public of all ages.
If your business/organization is interested in renting a booth, please contact Cheri Perkins, at
cperkins@lagrangecoa.org
for additional information.
Volunteers Needed:
If your interested in volunteering at the senior expo, please call the COA at (260) 463-4161 to get your name added to the list.
Documents

Marketing Materials
Available in September

Confirmed Vendors

Corporate Sponsors
Coming Soon...

General Vendors
Coming Soon...

* Vendors that have made a payment for a booth are listed above. There are MANY vendors that are still currently pending.